Screw Conveyor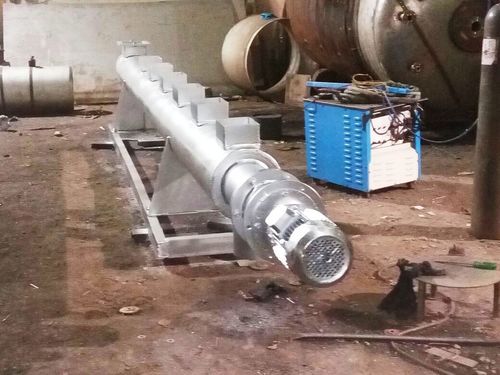 Screw Conveyor
Product Description
RAHUL ENGINEERS
Screw conveyor technology is the leading conveyor technology for the widest range of material particle, bulk density and flow properties.The Screw Conveyor is an efficient and cost-effective way to convey materials of various sizes, shapes and densities. This versatile device features a sturdy design, allowing hassle-free movement of material with minimal effort. As a result, businesses can take advantage of greater accuracy, performance and productivity.

Dust-free in operation :
The screw conveyor is completely sealed operation air isn't used as a conveying medium, there's no risk of dust contamination or humidity from the atmosphere, In addition, the presence of dust can cause not only airborne contamination of other products, but can also pose a threat to the working environment.

Gentle handling of product :
The rotating screw , being centralised within the conveying tube, gently moves the material without degrading it. Its unique action also eliminates the risk of mixed product separation.

Screw conveyor spiral selection :
Standard Pitch, Single Flight Conveyor screws with pitch equal to screw diameter are considered standard. They are suitable for a wide range of materials in most conventional applications.

Short Pitch, Single Flight
Flight pitch is reduced to 2/3 diameter. Recommended for inclined or vertical applications. Used in screw feeders. Shorter pitch retards flushing of materials which fluidize.

Applications versatility across the widest range of industries.
Food

Pharmaceuticals

Plastics/rubber

Chemicals

Cement

Water treatment

Minerals/ceramics